Meet the Senior Leadership for Camp JORI
                 KARA LIBERMAN: CO DIRECTOR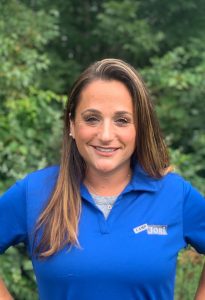 Hi, I am Kara Liberman, Co-Director of Camp JORI.  I grew up in New Jersey before moving up the East Coast to attend the University of Massachusetts.  I obtained my B.S. in Communication Disorders and an appreciation for the Boston Red Sox. Following graduation, I moved to Boston to continue my education. I earned my master's degree in special education from Simmons College. I worked as a special educator in the elementary and middle school levels. In addition, I taught Sunday school at the local temple and was involved in many of their programs.   Working with youth has always been important to me and continues to be something that I cherish. 
 I started working at JORI in 2018 after my boys had been attending camp and loving it. After spending every summer of my youth at camp, I was thrilled to have the chance to embrace camp in this other role. I treasure my time at camp and know that each day is unique and special. One of my favorite responsibilities at camp is the wake-up call. I have always been a true camp person and continue to appreciate all that summer camp.  Being a director, it is essential that I immerse myself in everything "camp." That goes beyond my love for all things tie-dye. I participate in activities, bond with our camp community, and always look for ways to grow our program. 
 Camp JORI is a special place where I have 3 children who join me at camp every summer. Josh (age 15), Matthew (age 13) and Stella (age 8) travel all the way from Austin, TX.  We love life in Texas but look forward to returning to our friends and the cooler weather in RI every summer.  And for anyone wondering about our favorite teams, we are proud New England fans!
If there is anything I can help you with, please do not hesitate to email me at Kara@campjori.com. 
ALICIA MCGEE: CO-DIRECTOR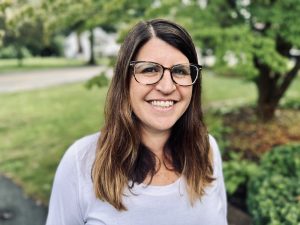 Hi, I am Alicia McGee, Co-Director of Camp JORI.  I grew up in New Jersey, attended Ithaca College, and have lived in Massachusetts since attending Wheelock College in 2005 when I obtained my M.S.W. (master of social work). I worked at Girls Inc. of Lynn as a teen prevention counselor before working at Temple Isaiah in Lexington, MA.  I worked at Temple Isaiah for over 10 years in a variety of roles such as the Director of Tichon Isaiah (8th-12th grade high school program) as well as coordinator of 4th-6th grade. At that time, I obtained my master's in education at Cambridge College.
Throughout my youth and teen years, I have loved and have attended day and overnight camps as well as going on a teen tour.  Throughout this experience, I have worked as a camp counselor which led me on the path to social work and temple engagement.  I love summer camp because it's a place where we can truly be ourselves, take healthy risks, and learn what it means to be part of a community.  I am so grateful to have an opportunity to work at Camp JORI and can't wait to meet our campers in just a few months!!!
My husband Casey along with our 3 children, Logan (age 15), Gavin (age 13), and Cooper (age 6) live in Burlington, MA. We love hitting the beach and exploring new places. In addition, we share a love for New England sports and try to find time to watch our beloved sports teams!
Please feel free to reach out at Alicia@campjori.com as I welcome the opportunity to meet our wonderful, strong camp community.
SETH FINKLE: DIRECTOR OF DEVELOPMENT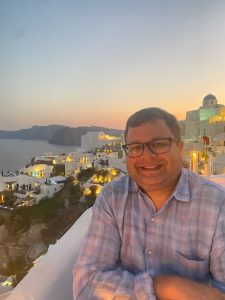 Hi, my name is Seth Finkle and I am the new Director of Development for Camp JORI. I have a BFA in Acting and Stage Management from the University of Rhode Island and an MA in Educational Theatre from NYU. Currently, I sit as the President of the Board of Directors for URI Hillel.
Before starting at Camp, I was the Senior Advancement Officer at Gann Academy for the past three years. I was an advisor for sophomores, and the faculty advisor for a philanthropy club called Gann Gives. I have worked with many different volunteer groups including board members, alumni, and alumni parents. Before Gann, I worked at the Jewish Alliance of Greater Rhode Island for seven years in the philanthropy department and ran our summer day camp. During my time at the Alliance, I was fortunate enough to be part of a very prestigious 18-month fellowship all about teen engagement.
I am excited to be working at Camp JORI and getting to know everyone. I am conducting a listening tour and want to hear your "JORI Story." Why do you love JORI? How can we improve? What is your favorite memory about camp? I want to hear it all. Please do not hesitate to contact me for a meeting,
seth@campjori.com
. I look forward to meeting and getting to know you.