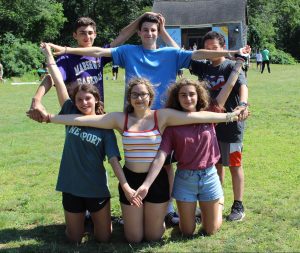 Why Jewish Summer Camp can deepen your child's connection with their identity?
For many of us (Jews), our identity is tied to our summer camp experience. 
Summer camp is an important tradition that can help children connect with their Jewish heritage and culture. Jewish summer camps offer a unique opportunity for kids to learn about Judaism in a fun, immersive environment while building lasting friendships and developing important life skills. In this blog post, we'll explore how JORI (Jewish summer camp in Rhode Island) can help shape kids' Jewish identities.
Before we jump into what your campers will bring home from camp, here are a few facts supplied by the Foundation for Jewish Camping to explain why we believe JORI is vital to your child's Jewish identity.
As adults, your camper is 21% more likely to feel that being Jewish is very important.

As adults, your camper is 55% more likely to feel an attachment to Israel 

As adults, your camper is 37% more likely to light Shabbat Candles Regularly 

As adults, your camper is 25% more likely to donate to a Jewish charity
Now here is what they get to bring home with them.
Immersion in Jewish Culture
One of the most valuable aspects of Jewish summer camp is the opportunity for children to immerse themselves in Jewish culture. At Jewish summer camps, kids participate in various activities, from arts and crafts to sports to music and dance, all with a Jewish twist. This can help kids connect with their Jewish heritage and learn about Jewish customs and traditions in a fun, engaging way.
Learning About Jewish Connection
In addition to participating in Jewish-themed activities, kids at Jewish summer camp also have the opportunity to learn about Jewish history and tradition. Every year we bring together campers from across the US and have staff from around the world. This blending of Jewish culture allows us to share stories and experiences of our Jewish traditions. We also celebrate many aspects of our connection with Israel and its importance to our Jewish identity. Throughout a unique blend of experiences, history, and tradition, our campers gain a unique perspective of what it means to be Jewish. 
Building Lasting Friendships
One of the most important aspects of summer camp, regardless of its focus, is the opportunity for kids to build lasting friendships. At Jewish summer camps, children can connect with other kids who share their Jewish background and values. These friendships can be treasured for children who may feel isolated or disconnected from their Jewish identity in their day-to-day lives. 
Developing Life Skills
Jewish summer camps are not just about Jewish culture and education but also about developing essential life skills. Kids at camp learn to be independent, make decisions, and solve problems, all while building self-confidence and resilience. These skills can be invaluable as children grow and mature and can help them succeed in all areas of their lives.
Strengthening Jewish Identity
Ultimately, the most important role of Jewish summer camp is to help children develop and strengthen their Jewish identities. By providing a safe, welcoming environment for kids to explore their Jewish heritage and culture, camp can help them form a strong sense of identity and belonging within the Jewish community. This can be particularly important for kids who may not have access to Jewish education or community in their home environments.
Jewish summer camp can be a powerful tool for helping children connect with their Jewish heritage and culture, develop important life skills, and build lasting friendships. In addition, by providing a fun, engaging environment for learning and growth, Jewish summer camp can help children develop a strong sense of Jewish identity that will stay with them for the rest of their lives.
If you want to know if Camp JORI is the right partner for shaping your child's Jewish identity. Then, Please complete our contact form (click here), and one of our directors will reach out to you. 
Financial Aid
Did you know one of the core beliefs of JORI is that camp is for everyone, no matter their financial situation? Please contact Kara (kara@campjori.com) for more information about our unique scholarship program and financial aid.