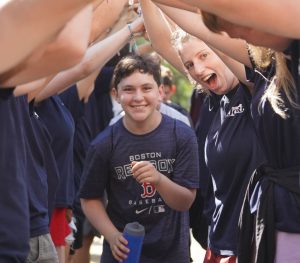 My first time at Camp JORI
A Camper Story
I had never been to summer camp before but I was excited to try it out. My parents had signed me up for a 4-week long sleepaway camp in southern Rhode Island called Camp JORI, and I couldn't wait to explore a new place and meet new friends.
As we drove down to the campsite, I felt nervous and anticipation. I had never been away from home for so long before, and I didn't know anyone else who was going to the same camp. But I was determined to make the most of this adventure and have fun.
When we arrived at camp, I was immediately struck by the beauty of the surroundings. It was nestled in the woods by a lake, and there were cabins, a dining hall, a campfire ring, and sports fields all around. I couldn't wait to explore everything.
I settled into my cabin and met my bunkmates. They were all from different parts of the US and even from other countries, and we quickly bonded over our shared excitement for camp. Next, we unpacked our bags, set up our bunks, and got ready for our first activity.
The first day of camp was a whirlwind of new experiences. We went swimming, kayaking, and rock climbing. We played games and did arts and crafts. We even went on a nature hike and learned about the different plants and animals that lived in the woods around us.
One of my favorite parts of camp was our evening activities. We gather as a whole camp to compete in talent shows, play all-camp capture the flags, and my new favorite camp tradition, sock wrestling. 
As the days passed, I became more comfortable at camp. I made new friends, tried new things, and discovered new talents. I even won a game of dodgeball and learned how to make a friendship bracelet.
But as the weeks came to an end, I felt a mix of sadness and gratitude. I was sad to leave this amazing place and the friends I had made, but I was grateful for the memories, the lessons, and the friendships that would last a lifetime.
As we packed our bags and said goodbye to our counselors, I felt a sense of accomplishment and pride. I had survived my first summer camp, and it had been an unforgettable adventure. I couldn't wait to come back next year and do it all over again.
As we drove back to Boston, I looked out the window at the passing scenery and smiled. I had experienced something new and exciting, and it had been a summer I would never forget.
It is still possible to make this story your reality. Register now to secure your spot. We can't wait to see you at camp. 
Financial Aid
Did you know one of the core beliefs of JORI is that camp is for everyone, no matter their financial situation? 
Please contact Kara (kara@campjori.com) for more information about our unique scholarship program and financial aid.