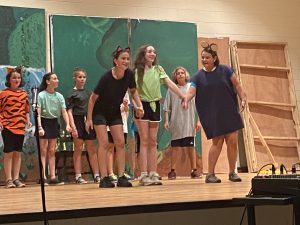 Summer camps are more than just a place for children to play and have fun during the summer months. They also allow children to learn important life skills and values that can help shape their character and future. Our art and crafts programs are integral to our curriculum for teaching core values to campers.
At JORI, art is a part of our life; we believe in its power to help our campers expand their creativity, develop a sense of respect, grow in their resilience, and more. In this blog, we will explore how our summer camp's art and crafts program teaches the components of TaCEO.
 Creativity and Imagination
Art and crafts programs are designed to stimulate creativity and imagination in children. These skills are valuable not only in the arts but also in other areas of life. When children are encouraged to be creative, they learn to approach problems and challenges uniquely and innovatively. This helps them develop a sense of independence, confidence, and the ability to think outside the box.
Persistence and Resilience
Creating art and crafts requires patience and persistence. Campers are encouraged to keep working on their projects until they are completed. They may encounter obstacles or setbacks but can learn to overcome these challenges and develop resilience. This skill can be invaluable as they face challenges in life.
Teamwork and Collaboration
Some art and crafts projects require teamwork and collaboration. Campers are encouraged to work together to complete a project, such as making a bunk sign or creating the Olympics plaque. Communication, listening, and compromise can help them become effective team players.

Respect and Diversity
Art and crafts programs often expose campers to different cultures and traditions. For example, we love using the affectionately known Art Barn to teach our campers about their Jewish identities. Our campers might make a ritual item like a candle stick or work with cabin mates to make a mural of Jewish cultures worldwide.
This can teach campers to appreciate and respect different perspectives and ways of life. They learn that diversity is something to be celebrated and that there is value in learning from others.
Environmental Responsibility
Many art and crafts projects involve using natural or recycled materials. This can teach campers the importance of environmental responsibility and conservation. 
One of our favorite examples is our nature sculpture garden. 
Every year our camper works collaboratively to make a sculpture using natural materials found around camp that best represent who they are. They learn to appreciate nature's beauty and value and understand their actions' impact on the environment.
We hope you agree that our Arts and Crafts program is more than painting, drawing, and making friendship bracelets. It is a vehicle for teaching valuable core life skills. Campers can develop essential skills and values that can help them succeed in all areas of life through creativity, persistence, teamwork, respect, and environmental responsibility. Summer camps provide an ideal setting for this type of learning, and art and crafts programs are just one of the many ways camps can help children grow and develop into responsible, caring, and confident adults.
How to Register 
If you want to know if Camp JORI is the right partner for shaping your child's future. Then, Please complete our contact form (click here), and one of our directors will contact you. 
Financial Aid
Did you know one of the core beliefs of JORI is that camp is for everyone, no matter their financial situation? Please contact Kara (kara@campjori.com) for more information about our unique scholarship program and financial aid.